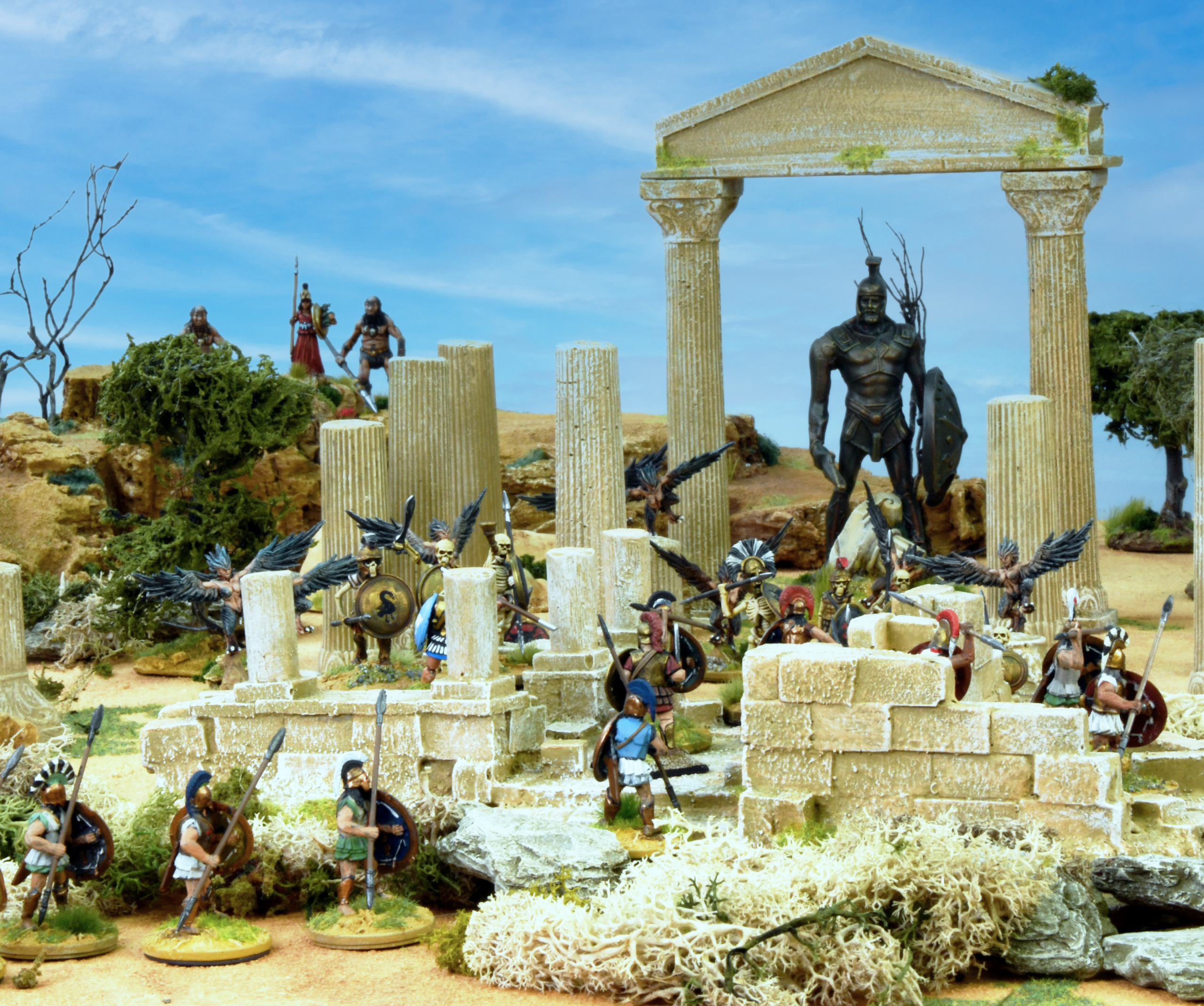 In Wi406 James Morris suggests going Greek in your gaming. Here we expand on the miniatures shown in the article, all from James' collection!
We got some extra details from James about some of his models. Follow his suggestions and you could create epic action like this (above) on the tabletop!
Cyclopes
These four fine fellows are soft plastic figures by Dark Alliance. Although designed for 1/72 scale, they are perfectly big enough to take on 28mm models, being around 50mm tall. You get three sets of four identical poses in the box so I've done a few minor conversions.
Centaurs
These are 28mm models from the Reaper Bones range. Very nice miniatures but there are only two poses available. I like the dynamism in these sculpts.
Talos, the Bronze Giant
This extremely large chap is a tourist statue of Achilles, purchased from a shop in Crete for around 10 Euros. I gave him a new base and a complete repaint.
Zeus
Another Cretan tourist statue with a repaint. The original had rather crummy lightning bolts so I replaced them with some bent florist's wire, hammered flat and shaped. The cloud is a soft toy stuffing glued onto his base.
Minotaur
Despite my best efforts in Crete (including a trawl of all the tourist shops opposite Knossos), I couldn't find a Minotaur that I liked. Fortunately, demo game chum Simon Miller had an old Grenadier one in his collection that he kindly looked out for me. He's a really 6chunky one-piece metal casting.
Herakles
This is the North Star model from the Of Gods And Mortals range. I added a bow and quiver to this figure so that he can shoot arrows poisoned with the blood of the Hydra of Lerna.
Harpies
These are a very recent purchase, 3D printed models found on Etsy. They are designed by Artisan Workshop; I purchased mine from Fully Cycled. They're a perfect example of how 3D printing is pushing the boundaries of miniature production at the moment: in metal, they would be heavy and fragile, but 3d printing makes them possible. Although there are only two poses, I have varied them with different basing angles and heights.
Cyclops
Another Etsy purchase from the Artisan Workshop ranges. He came out a little smaller than I was hoping (around 40mm) so I placed him on a tall base to boost his self-esteem! The sheep is a really cool detail.
Pan
I use this dynamic figure as the horned god of the woods, although he's actually sold as Maglint Rootgnawer for the Red Book Of The Elf King range from Lucid Eye.
You can see more of James' hobby projects over on his blog.
Want to see more of these miniatures? Check out these figures in full 360 degrees by clicking on the video below!