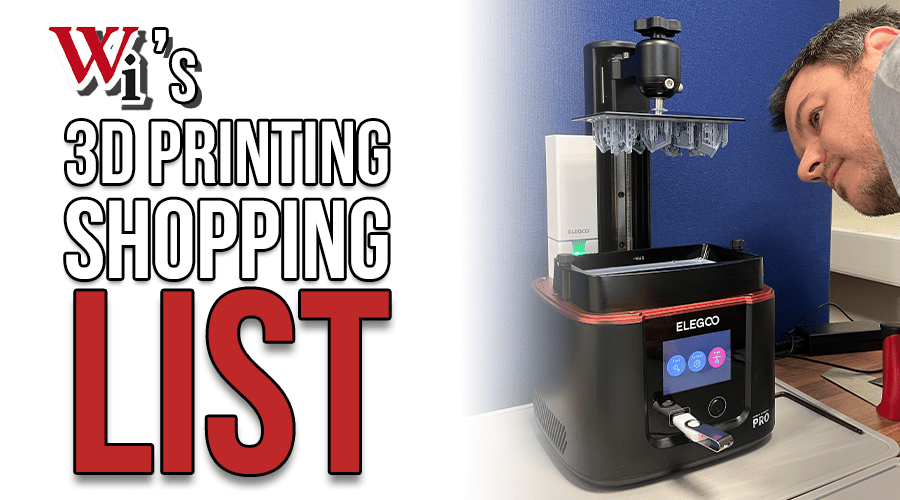 Wargames Illustrated's Office Manager Ian has become Wi's 3D printing champion over the last few months. You can read about the start of his 3D printing adventures in Wi422 where he presents an introduction to this exciting new technology.
If you're eager to get started, then you'll need some kit. Ian's put together a 'shopping list' of the various things he uses to make our 3D prints. There are all kinds of alternatives available, of course, but this is the stuff in our office print room.
Our ELEGOO essentials
Ian: This trio of ELEGOO products make up the core of our 3D printing setup. ELEGOO kit is reliable, small-form, and produces excellent quality prints for the price. Other brands offer great printers too, so you should look around to find something that's perfect for you but having learned how to produce prints on the ELEGOO kit I am very happy to recommend it.
Though you could hand clean your prints and cure them in sunlight I think that the wasted time (and amount of mess) you'll avoid going through by using the ELEGOO cleaning station makes it well worth getting too.
There are many resins available, in a multitude of colours and finishes, but the basic grey has proved perfect for my needs so far.*
Protect yourself
I use all sorts of gear to keep my insides and outsides protected when printing. Although the resin I use is marked as safe from causing long-term ill effects on its material safety data sheet (MSDS) it is still quite unpleasant smelling and I'd rather be safe than sorry.
My ELEGOO printer has a built-in air purifier but using the additional duo that is in this list makes a noticeable improvement to the resin odour present when I print.
Nitrile powder-free multi-purpose gloves.
Lightweight protective safety glasses with scratch-resistant, anti-fog lenses.
P2/N95 face mask.
ELEGOO Mini Air Purifiers (we got ours from 3D Jake in the UK).
Keep it clean
Working as cleanly as possible is essential and the gear below helps me do that. Silicone mats are a must-buy as they make the clean-up process so much easier, and you'll need plentiful supplies of isopropyl alcohol to fill your washing station.
Silicone slap mat.
Extra soft toothbrushes.
Paint filter cone and silicone funnel.
BuildTakSpatula (specifically designed for FDM printers; we got ours from 3D Jake in the UK).
Putty filler knife set – spreader/scraper/skimmer.
FEP Film 2.0 (a better quality FEP cover with a longer lifespan; another 3D Jake purchase).
Plastic clip lock airtight seal tubs.
* The ELEGOO printer and clean-up station are affiliate links, so we may earn a small commission when you make a purchase through those links at no additional cost to you.