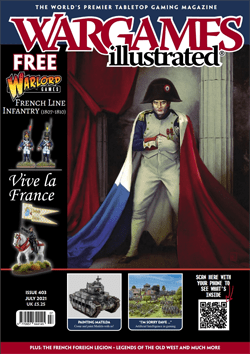 Having trouble viewing the flipbook magazine? View and download it instead!
Order a print copy of this magazine in our store!
Editorial:
French troops are never very far from the wargames table: whether that be Charlemagne's Frankish warriors, Napoleon's legions, the Poilus of the Western Front, and more. The martial prowess of the soldiers from the various regions that have come to make up the modern French Republic is legendary, and in the theme articles of this issue we explore some of those warriors and how to bring their conflicts to the tabletop.
In order to introduce or expand your gallic forces, included free with this magazine is a frame of four French Line infantry, courtesy of Warlord Games. Following on from last month's introduction to the world of Turnip28 we show you how (even if you don't think you are interested in French Line Infantry 1807 – 1810!) you can include your new figures in gaming action.
We're not all allez les bleus though this issue, outside of our theme we will be whisking you off to such exotic locations as mugal India, medieval Flanders and the Wild West. We also have a great Artificial Intelligence article for you, exploring ideas common in solo wargaming which can also be brought to bear in two (or multi) player games.
Happy reading and rolling!
Dan Falconbridge
Editor and Owner
QUICK FIRE!
Wi Readers fill us in on their hobby exploits
OBSERVATION POST
New hobby releases under the microscope.
FULL PAPER JACKET
Our monthly look at intriguing books.
FRAME FOCUS:
TURNIP28 LINE INFANTRY
Wi's Project Manager James took this month's free Warlord Games French Napoleonic Line Infantry frame and kitbashed its figures into something very different!
FRENCH ÉLAN
Kicking off this month's Viva la France theme, Jim Graham throws caution to the wind and charges headlong into this article on élan through the ages.
MAKING AN OPEN CRYPT
James Floyd Kelly shows us how to make a spooky tabletop centrepiece, ideal for a Gothic Horror setting.
ENFANTS PERDU – FRANCE'S LIGHT INFANTRY REVOLUTION
Colonel (Retired) Bill Gray examines Napoleonic Light infantry skirmishers.
WHY WE LOVE:
LEGENDS OF THE OLD WEST
Project Manager James and Legends of the Old West designer Mark Latham discuss this much-loved skirmish game.
HORIZON BLUE – PAINTING GREAT WAR POILUS
James Morris shares some of his brushstrokes in this painting guide for WW1 French.
THE BATTLE OF THE GOLDEN SPURS
Karim Van Overmeire looks at the medieval Flemish militia's most famous victory, the battle of Courtrai.
SONS OF THE DESERT
Pete Brown presents a short campaign for the French Foreign Legion, set in the deserts of North Africa.
PAINTING MATILDA
Barry Evans paints a 28mm resin Matilda 'Boss' Battle Tank from Victoria Miniatures with both airbrush and brush techniques.
DESIGNERS NOTES:
SHADOW OF THE EAGLES
Keith Flint talks about his new set of rules for wargaming the French Revolutionary and Napoleonic Wars.
"I'M SORRY DAVE, I'M AFRAID I CAN'T DO THAT"
Pete Brown's got some thoughts on taking AI beyond solo gaming and into our two-player tabletop battles.
TALES FROM PENDAWAR
David Bickley settles on some 'imaginations' in the Indian sub-continent for his next project.
PART BUILT TIMBER-FRAMED BUILDINGS
Andrew Pearsall adds some part constructed timber-framed buildings to his tabletop.