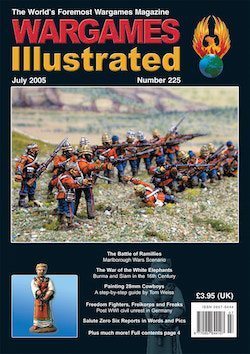 The Battle of Ramillies, 300 Years On
Horse and Musket
Ralph Weaver
At the beginning of the year 1706 the Duke of Marlborough conceived an audacious plan to march an army south to assist the Austrians, under Prince Eugene, not to Bavaria as he had done in 1704, but over the Alps to Italy…
Salute Zero Six: A Lardy View
WW2, WWII, World War Two
Richard Clarke
One of the 'Too Fat Lardies' demo game team gives us his retrospective view on this year's Salute.
Salute Zero Six: The Battle of Maria
Napoleonic
A close look at the South East London Wargames Group's 25mm Napoleonic display game.
Salute Zero Six: The Circus Minimus
Ancient
Matt Slade
Matt Slade and the Wargames Association of Reading's fun filled Roman chariot racing participation game.
Salute Zero Six: Rorke's Drift
Colonial
Photos of the winner of this year's best demo game prize.
Salute Zero Six: Age of Arthur
Dark Age
The Crawley Wargames Club give us the background details on their 25mm Dark Age display game.
Salute Zero Six: Painting Competition Winners
Show
Photos of some of the Salute painting competition winners
Salute Zero Six: On behalf of the Warlords…
Show
John Treadaway
We round off our Salute Zero Six coverage with an open letter form one of the event organisers.
Photo feature: Ebob Miniatures, The Great Escape
WW2, WWII, World War Two
Photo feature: Bill Gaskin's ACW collection
ACW, American Civil War
Bill Gaskin
The War of the White Elephants
Medieval
Barry Carter
After the events of the year 1548 which involved the Burmese invasion of Siam and the death of Somdet Phra Suriyothai, the next major conflict between the two nations occurred in the year 1563, over the possession of "white" elephants.
Freedom Fighters, Friekorps and Freaks
Back of Beyond
Bernd Biege
We explore the climate of turmoil and opportunities for wargaming in post WWI German.
The Battle of White Moors – Report
Dark Age
Steve Hall
A report on a game played using last month's Dark Age White Moors scenario.
Painting 28mm Cowboys
Wild West
Tom Weiss
From bare metal to technicolour masterpiece, here's expert German brushman Tom Weiss's guide to painting 28mm cowboys.
Lady Godiva
Dark Age
Vince Noir
This year's two free figures for subscribers are our designers' interpretations of the legendary figure – Lady Godiva; but who was she? Vince investigates…
Photo feature: Models from Kevin Dallimore's Collection
Modelling
Kevin Dallimore
Building and Painting Resin Vehicles Part Four
Modelling
Kevin Dallimore
Adding stowage and finishing your vehicles. The final part of this step-by-step guide.