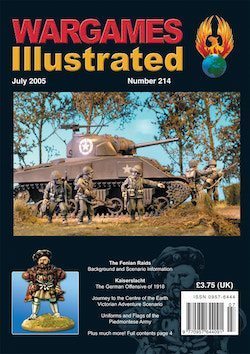 Uniforms and Flag of the Piedmontese Army
Marco Severino
A guild to the Royal Sardinian army of 1792 – 1796.
The Fenian Raids – Part 1
David Hoyt
A look at the attacks on Canada by the Irish Fenian Brotherhood in 1866.
Kaiserslacht – Part 1
Dr. Gavin Hughs
Background information and scenario for the great WWI German assault of 1918.
Photo Feature: Border Reivers and Zulu War
Journey to the Centre of the Earth
Howard Whitehouse
A Victorian Adventure scenario at the Earth's core.
More Offensive Behaviour
Barry Hilton
More action on the Eastern Front in this WWII scenario.
Rapid Fire!
David Bickley
A close look at the new Rapid Fire rulebook.
Partizan 2005
Phil Gray
An exhibitor's view from the Newark Irregulars' prime show.
Beer and Pretzels 2005
John Martin
A report from the anual gaming show in Burton upon Trent.
Gangster Chic
Howard Whitehouse
Painting figures for the Prohibition Era.