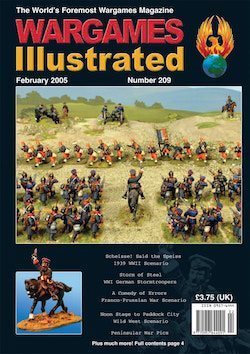 'Operation Overlord'
WW2, WWII, World War Two

Andrew Carless
WWII action with Italeri's new rules.
Tomb of the Pharaohs
Colonial

Howard Whitehouse
An architect's guided tour of his Egyptian tomb.
The Three Realms Campaign
Ancient

John Kersey
A report from the Warhammer World WAB tournament focussing on the triangular Japanese, Chinese and Steppe Nomads campaign.
Storm of Steel
WW1, WWI, World War One
Dr Gavin Hughes
German Stosstruppen units in World War I from 1915 – 18.
Photo Feature: Punishment Square
Napoleonic
Bill Gaskin's Peninsular War Napoleonic collection
 A Comedy of Errors
Franco Prussian
Mark Jones
A report from a large scale Franco-Prussian War battle.
Noon stage to Paddock City
Wild West

Dave Bickley
Wild west scenario – will the stagecoach reach Paddock City on time?
Scheisse! Said the Speiss
WW2, WWII, World War Two
Dr KS Gebhardt
A rear-echelon German infantry company is attacked by a Polish cavalry platoon in this WWII scenario.
At the Shows
Show

Richard Tyndall
A review of the wargames shows of 2004.
Free Billy (The Kid)!
Dave Woodward
Billys draws; Dave paints quick!