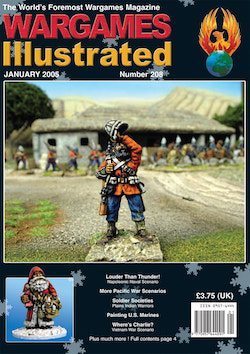 More Ideas For Gaming The Pacific
WW2, WWII, World War Two
Chris Peers
A further look at transferring conditions from World War Two in the Pacific onto the tabletop.
Louder Than Thunder!
Napoleonic

Nick Skinner
A Napoleonic Naval Scenario involving British, French and Spanish fleets.
Soldier Societies
Wild West

Tim Greene
Using Plains Indians Warrior societies in A Good Day to Die.
One Rule For You – Part Four
General

Barry Hilton
The concluding part of this series comparing two different sets of rules.
Where's Charlie?
Modern
David Bickley
Famous American photographer Brady Macfarlane goes missing in the Vietnam jungle. A group of U.S. Marines are sent in to bring him back in this Vietnam war scenario.
Les Coquins Verts The Fighting Around La Haye Sainte, Waterloo
Napoleonic
David Bickley
The concluding part of this article examining the action around the famous farmhouse at the battle of Waterloo.
Painting 1980's U.S. Marines
Modern
Frank Hammond
A detailed painting guild for your US Marines.