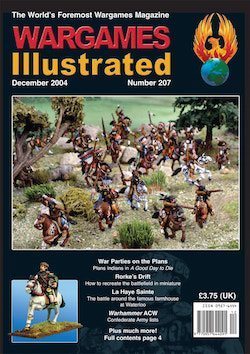 War Party on the Plains
Pike and Shot,  ACW, American Civil War
Tim Greene
North American Plains Indians and how to organise war parties in A Good Day to Die.
One Rule for You – Part Three
WW2, WWII, World War Two

Barry Hilton
The results of a second WWII scenario played out using two different sets of rules.
Rorke's Drift
Colonial

John Stallard
John takes us on a tour of his massive tabletop reconstruction of Rorke's Drift.
Les Coquins Verts – The Fighting Around La Haye Sainte, Waterloo
Napoleonic

David Bickley
Examening the action around the famous farmhouse at the battle of Waterloo
The Lion Eats Tonight – Part Two
Colonial

Howard Whitehouse
More rules for hunting big game on the African savanna.
Warhammer ACW
ACW, American Civil War

Paul Stevenson
Warhammer army lists for 'The Rebs' and generic troops in the American Civil War.
The Christmas Truce 1914, In East Africa
WW1, WWII, World War One
John Armstrong
A festive account of a little known truce between the British and Germans, Christmas Day 1914, East Africa.
Gamers Guild Goes to the Back of Beyond
Back of Beyond
Chris Thompson
Vladimir Assmatski Bolsheviks and local Chinese warlord, Phat Lip fight it out in the Back of Beyond.
SELWG – In words and photos
Show
Richard Tyndell
Exploring "the best" wargames show of the year