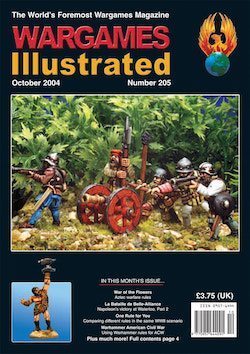 War of the Flowers
Back of Beyond

Chris Peers
An easy to use set of rules for skirmish battles between rival Aztec tribes.
One Rule for You – Part One
General

Barry Hilton
Barry explores differing results using two sets of rules to play the same scenario.
Drop the Roscoe
Fantasy

Howard Whitehouse
Pulp adventure gaming, what's it all about ? Howard Whitehouse explains all.
La Bataille de Belle-Alliance – Part 2
Napoleonic

Gabriel Mykaj
The concluding photographic account of Napoleon's victory at Waterloo.
Warhammer ACW
Fantasy, ACW, American Civil War
Paul Stevenson
How to use Warhammer Fantasy Battles as a rule set for American Civil War battles.
Future Wars Campaigns
Fantasy

Ben Rogers
Some ideas for settings for Future War campagins.
Waterfall of the Mohicans
Modelling

Howard Whitehouse
How to make a waterfall for your wargames table.
 Departments
Mike Siggins Wargames Notebook
Figure Reviews
Classified Ads