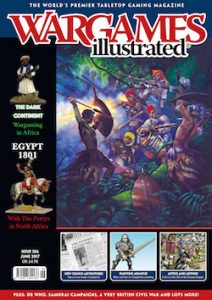 Articles with legs. I think we've got a couple of those in this issue. A Tale of Three Armies follows three players as they put together a tabletop force chosen from the army lists of the newly re-released Death in the Dark Continent rulebook. Ruga-Ruga, Ila and Boers may all sound strangely unfamiliar (…OK, maybe not the Boers) and they were to the gamers themselves (…OK, maybe not the Boers) before they started their research, painting and playing with their new figures. The three tale-tellers talk us through their pet projects and enlighten us about aspects of the rules along the way.
Enlightening us further about Death in the Dark Continent itself is James Morris in his article 'Why I Love Death in the Dark Continent' in which he extolls the virtues of one of his favorite games.
Although both articles are included as part of our 'Dark Continent' theme, both have the
legs to pave the way for similar articles in the future. If you and members of your wargaming circle could tell us the tale of your three (or four) gamers, or you would like to share your 'love of xxxx' please get in touch, because I'm sure other readers would like to hear your stories.
Although much of our Dark Continent theme centres around the Colonial period, early 19th Century Africa is also represented in 'Egypt 1801', in which Alan Perry shares some of his thoughts and lots of his photos of the Perry Miniatures 'French in Egypt' range.
Away from the Dark Continent we bring you Doctor Who, A Very British Civil War, a Samurai campaign system, Aetius and Arthur, the Fawcett Exploration and more.
Happy reading, and gaming.
Dan Faulconbridge – Editor.
Read this issue online now here, or buy the Print or interactive here.