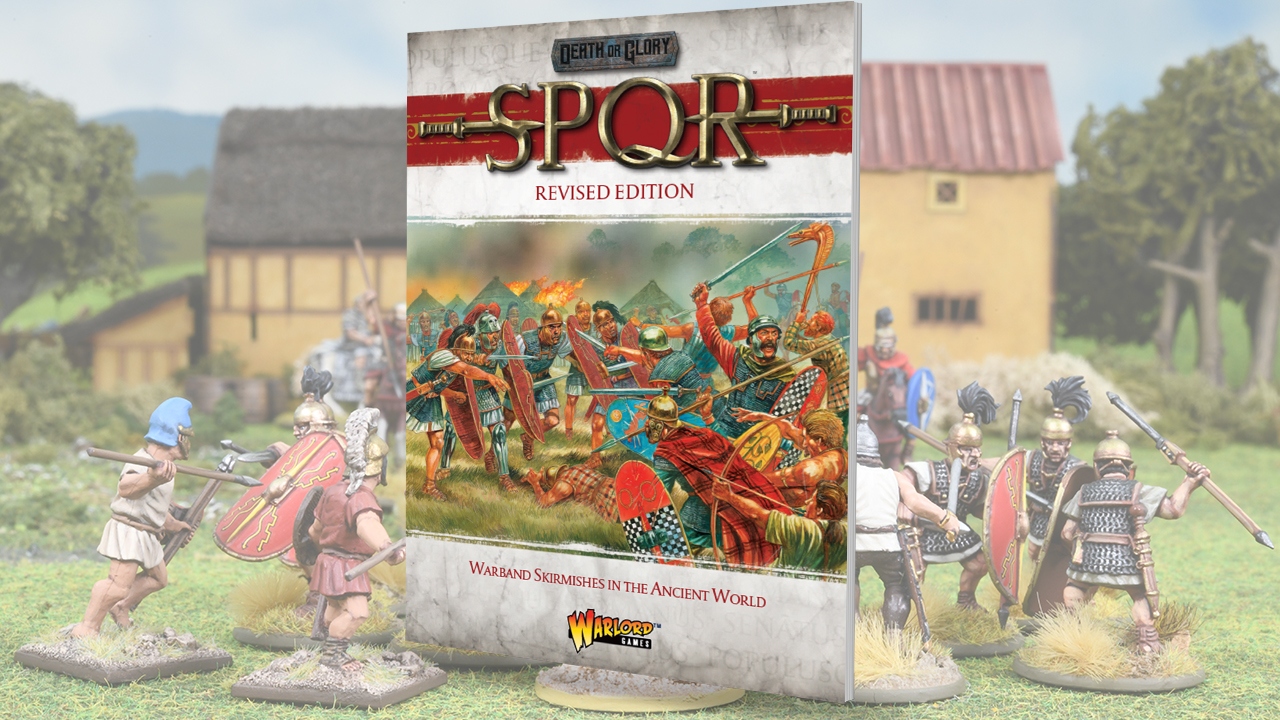 In Wargames Illustrated 398 we talk to Darron Bowley about his work on the new and improved SPQR – Warlord Games' Ancients mass-skirmish offering. We couldn't fit the full details into our interview so here's an extended edition for Prime members.
Wargames Illustrated: Hey Darron, thanks for chatting to us – can you give us a little introduction to yourself and your wargaming background?
Darron Bowley: I've been wargaming since the early 80s (starting with Reaper Fantasy Wargame Rules and Laserburn) and grew up playing Games Workshop games (Epic and Mordheim being particular favourites).
I was even a Games Workshop store manager for a few years before, eventually, becoming the lead writer for the Battle Games in Middle-earth partwork. After Games Workshop, World War Two dominated my wargaming – Flames of War and Bolt Action. Most recently, while studying for an undergraduate degree in English, I worked part time as a Warlord Games mail order picker. Serendipitously, Paul was looking for a sub-editor at the time and remembered my work from Battle Games so that's where I come into SPQR.
Wi: What shifted Warlord Games' focus back to the SPQR rules and did the growing popularity of mass-skirmish have an influence?
DB: Although SPQR has been extremely popular with gamers we have listened to feedback from the community and decided to make this update at the first reprint of the rulebook, rather than wait for years and a possible second edition. This isn't so much a new edition as a revision of the original rules.
We don't really look too closely at what other companies are doing – we plough our own furrow and make games we like, and hope they are popular amongst the gaming fraternity. As much as we'd like to suggest otherwise, there is no clever rationale behind this happening now – we've wanted to update the game at the first opportunity to make it even better so no time like the present!
The 'warband' level of SPQR fits in with our existing award-winning WWII game, Bolt Action; we're not suggesting 'true' skirmish-level games don't have a place – we just prefer to have more figures in our games.
Between customer feedback and the input from players within Warlord Games we felt the game could be made even better. Were we happy with the first edition of the game? Yes. Is the revised edition even better? Oh yes!
Wi: Has the current COVID situation had any impact on development or brought solo gaming into the mix?
DB: Development of the revised edition started long before the current pandemic; the focus since has been on getting the game and models back into circulation first. We're not ruling out someone taking up the challenge and producing a solo play version as we already have with the likes of Strontium Dog, Judge Dredd and Victory at Sea.
Wi: What's new and what's stayed the same in the game?
DB: The core of SPQR Revised Edition is essentially the same; it's the same stats, the same units, and the same recruitment and progression. However, having said that, almost everything has been 'tweaked' in some way. Feedback we received seemed to concentrate on three main areas: too many dice being rolled (and re-rolled), unbalanced abilities and points, and confusing combats.
In response we've reduced the amount of Melee Dice each model has. The majority of models now only have one Melee Dice. This allows heroes (who can enjoy many more Melee Dice) to shine, potentially taking on small units by themselves or being a decisive factor when leading a unit. Shields now roll for failed Armour Checks – small shields re-roll 1s and large shields re-roll any failed check.
Every ability and point cost (Denarius cost) was examined, re-balanced and re-costed where needed. For example, the Wild Charge ability now offers a unit of ten or more models a fixed bonus of ten extra Melee Dice when it charges and there are numerous other tweaks throughout, such as Sacred Bands now operating more like units than heroes.
There was some confusion around combat in SPQR, so we've aimed to clarify it while maintaining its essential 'skirmish' nature. When units meet, individual models fight against their immediate foes in a series of minicombats that all contribute to the whole. This means initiative and tactical positioning are essential to outmanoeuvre and outnumber an opponent's unit.
Wi: Have you had a chance to get the game played much in its updated state?
DB: Yes and playtester feedback on the revised edition has been incredibly positive, with players reporting that combats now run a lot smoother than before while also involving a lot more tactical thinking.
One Gaul player described how he had to be canny about repeatedly charging in and withdrawing from combat in order to benefit from multiple Wild Charge bonuses. This ability gave a Gaul charge added punch without being overwhelming. Others said their heroes made more of a difference now and that a well-timed cavalry charge often proved decisive, though cavalry can be expensive to field for those that have the option, especially in narrative campaign play.
Wi: It seems that composition of the warbands is a big element of the game.
DB: A lot depends on which warband you choose. Germania warbands, for example, favour a couple of large units with smaller support. Whereas Romans, with their exceptional defences, operate well in several smaller groups, giving more tactical flexibility. Additionally, heroes can be highly effective, often swaying combats with their array of abilities. And it's especially fun when two heroes clash.
Wi: Thanks for all that info Darron! To finish things up, do you have a favourite bit in the game now it's in its Revised Edition?
DB: Personally, I find the narrative campaign system and scenarios fuelling SPQR to be the most enjoyable part; it's a concept that obviously lends itself well to many other historical periods and settings. I'd love one day to have a Viking or Native American warband alongside my Gaul warband.