Our Project Manager, James, talks about our latest Giants in Miniature figure, Shaka Zulu.
When the first production casts of this figure arrived in the office I have to admit to falling in love, just a little bit, with how Shaka Zulu had been sculpted. The quality's not surprising as he was crafted by the awesome Mark Copplestone. The figure shows off Mark's trademarks: clean and crisp, characterful, in a strong pose, and with a striking silhouette.
This underrepresented historical giant has never looked better and Shaka's overall style – a mashup of his film representations, along with historical details (somewhat necessary due to the lack of plentiful and accurate historical records) screamed out "paint me!"
The timing of the casts' arrival was kismet – the tray of metal figures landed less than 12 hours after I'd finished reading Rorke's Drift and Isandlwana: Minute by Minute. This great book – written by Wargames Illustrated contributor, rules designer, and African military history expert Chris Peers – examines the Zulu's most famous moment in granular detail. Shaka was long gone by the 22 January 1879, of course, but his legacy lived on in the tactics, bravery, and strength the Zulu showed that day.
I was already buzzing with ideas for some mini-skirmish games, based on various smaller moments that occurred in the aftermath of Isandlwana (these may become an article eventually) and the sight of the new GiM Shaka figure built my Zulu excitement to breaking point. Shaka had to be mine!
One problem – we only had one spare cast, and this was destined to go to painting supremo Ben Macintyre. Ben makes all of our GiMs look shiny by applying his expert brushwork – at least he usually does! I can only apologise to Ben for snagging Shaka for myself; I have no doubt Ben's paint job would have been crisper and better than my own – I am happy to admit to being high tabletop standard painter – but I just couldn't resist and, thus, the latest GiM is painted by yours truly.
Shaka's skin
I felt that getting a rich, warm, realistic skin tone was the most important part of the painting process. It's unfortunate that many paints available as 'flesh' colours only represent the Caucasian type. Things are changing but we still paint in a post-Colonial world, even when it comes to the 'flesh' tones of our paints! This meant that to give Shaka the skin tone depth I wanted I had to give some serious thought to the tones.
Zulu skin tends to the darker pigmentation and this can prove to be even more of a challenge. There's not so far to go with shadow tone on such dark skin – the majority of the model would be dark but I certainly didn't want it to be desaturated. Browns with underlying depth were the aim, to build that richness.
I knew I'd use the Citadel Contrast paints Gore-Grunta Fur and Cygor Brown to build up the overall look of the skin but I wanted colour tones to come through from beneath. That meant that I actually started the painting in the same way as I usually do with single figures – with a black to white zenithal highlight. This creates an instant guide for any further painting and allowed me to instantly accentuate the high points of the model's skin.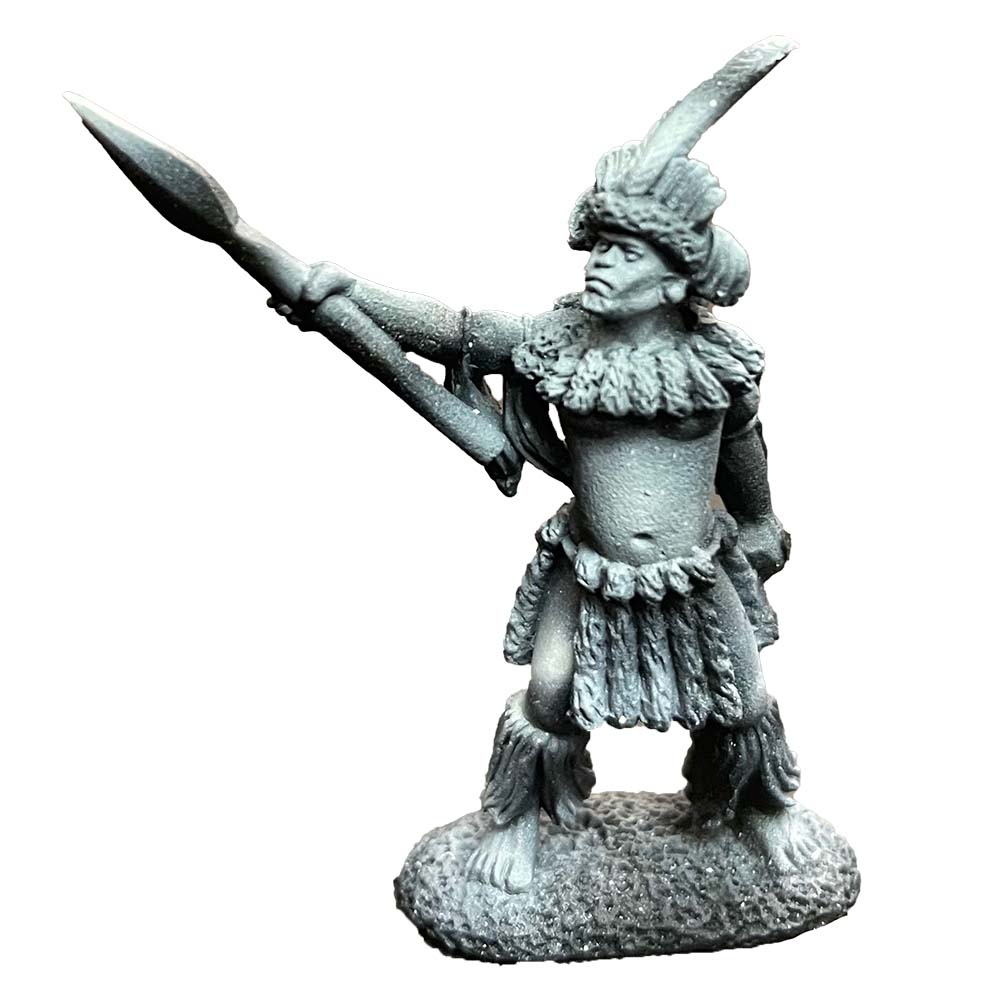 You may expect me to go reaching for brown next – nope! Instead, I started to tone the shadows and (to a lesser extent) the rest of the skin with Citadel Drakenhoff Nightshade Shade paint. This is to bring some darker, colder, inky-blue to the recesses and ensure that the brown over it will look more real. Human skin is, after all, actually coloured by what's under it, rather than the top layer.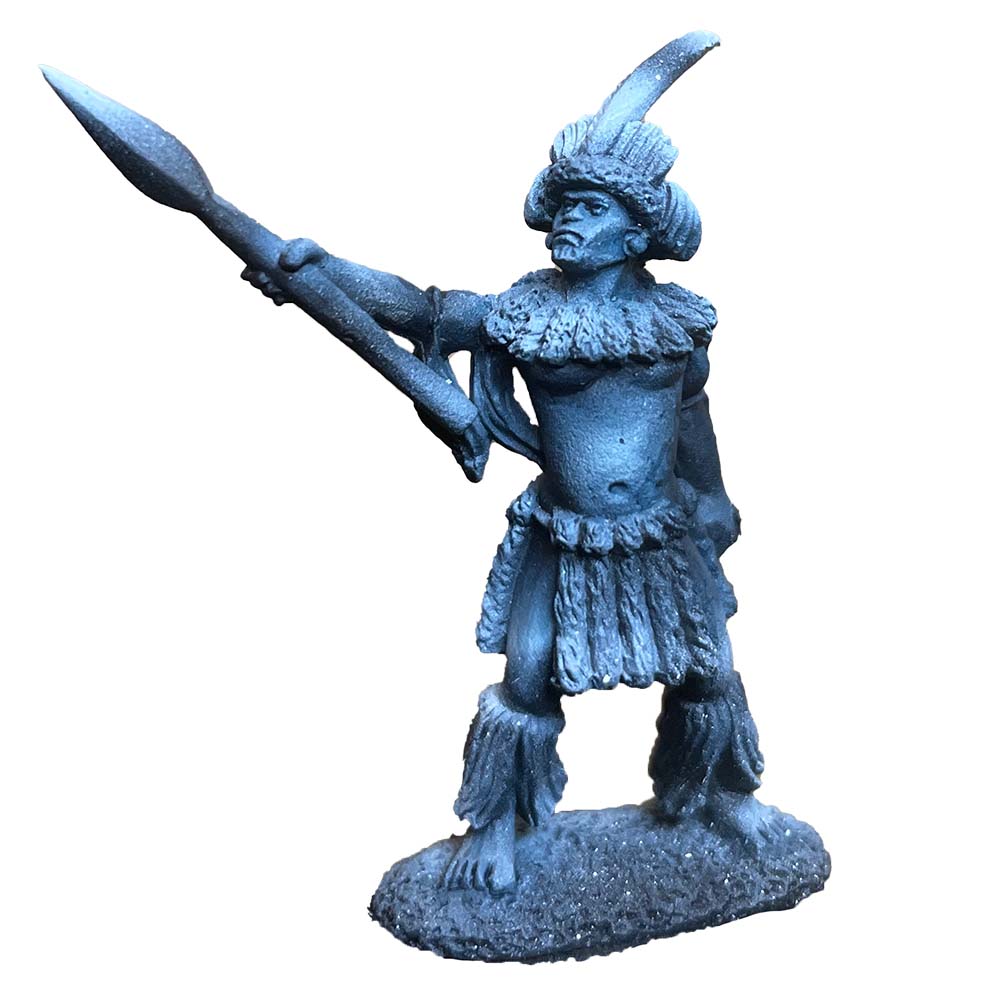 With the blue done I then got into adding browns, gradually toning the model with the aforementioned Gore-Grunta Fur and Cygor Brown. The translucency of the Contrast paints leaves hints of the undertones showing through.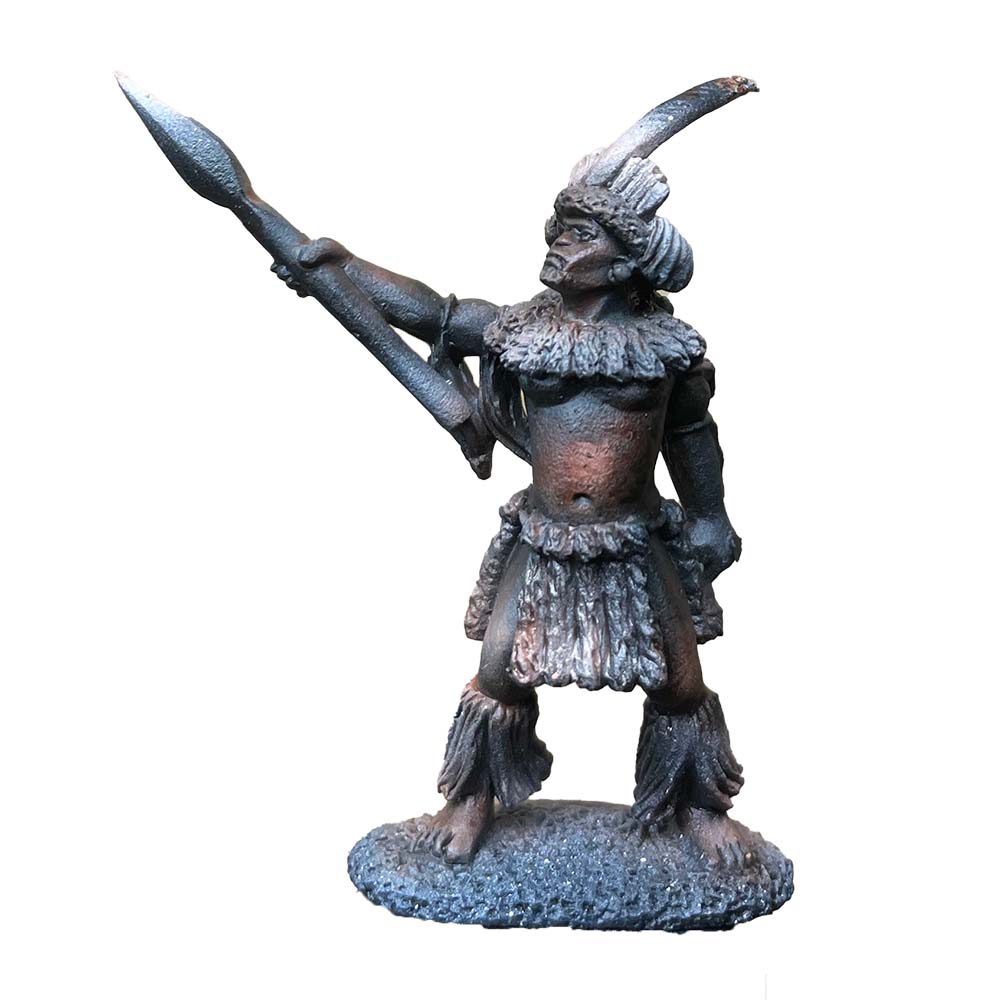 With that done I got to the more standard highlighting, using thinned Citadel Layer Ogryn Camo, mixed with the Contrast paint. Ogryn Camo is another very different sort of tone. If I'm being kind I'd describe it as the colour of a korma but as someone with a six-month-old niece … well, something else comes to mind too! It brings a hint of light to the dark skin as if it is reflecting the warm light coming from above. Using a thin mix these highlights get gradually built up.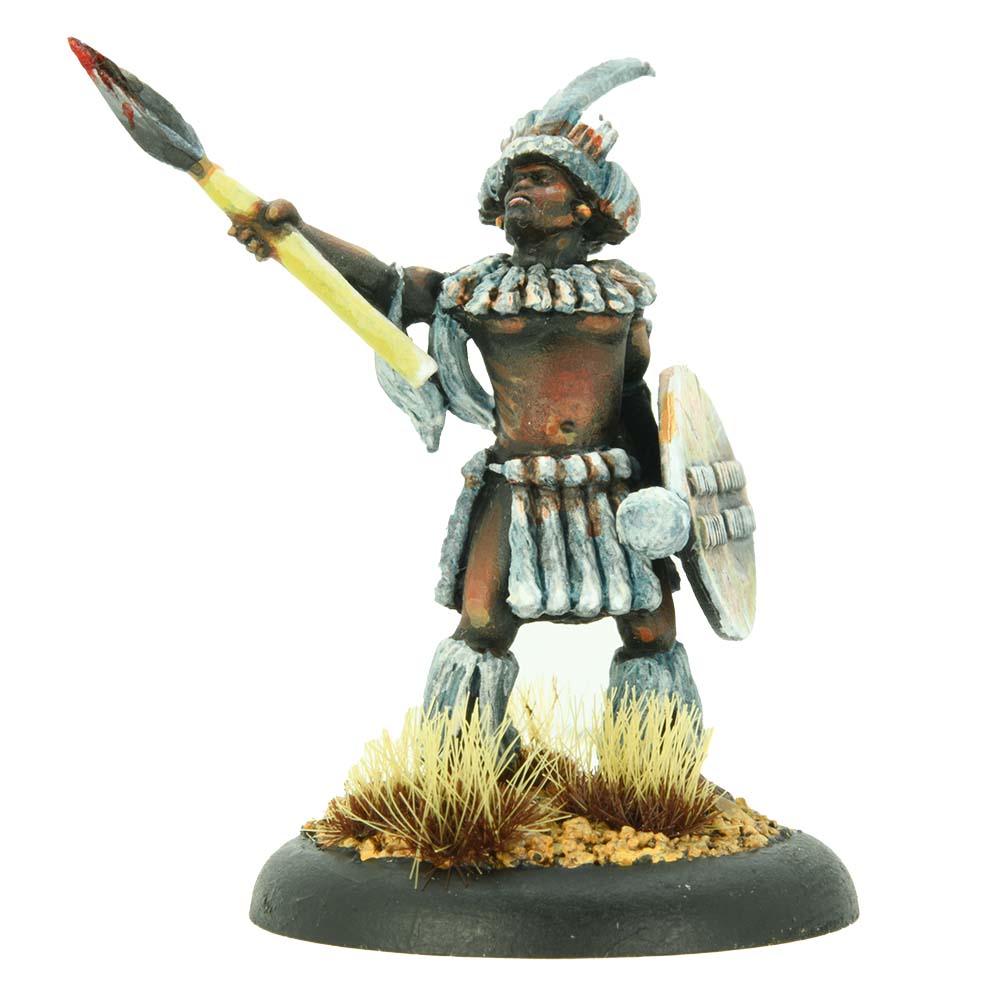 The final details on the face were to bring back the depth around the eyes, going back to Citadel Drakenhoff Nightshade, and add a little pinkness to the bottom lip. It's important to be subtle here – too far and your model will look like an unpleasant caricature!
The shield
I had a lot of fun texturing the shield, adding a wide range of tones to create a varied hide look. It ranges from a similar rich brown to the skin (to bring some harmony) down to black and up to beige, then pure white on the very edges.
I used a fine brush to cross-hatch hints of further texture onto the shield and was having so much fun that I got a little carried away. In adding scratches and tears I'm perhaps doing a disservice to selling the material the shield is made from, but I think it looks right for the kind of 'movie historical' look the figure has.
I also added small splashes of blood to the shield, perhaps from hitting it into a nearby foe.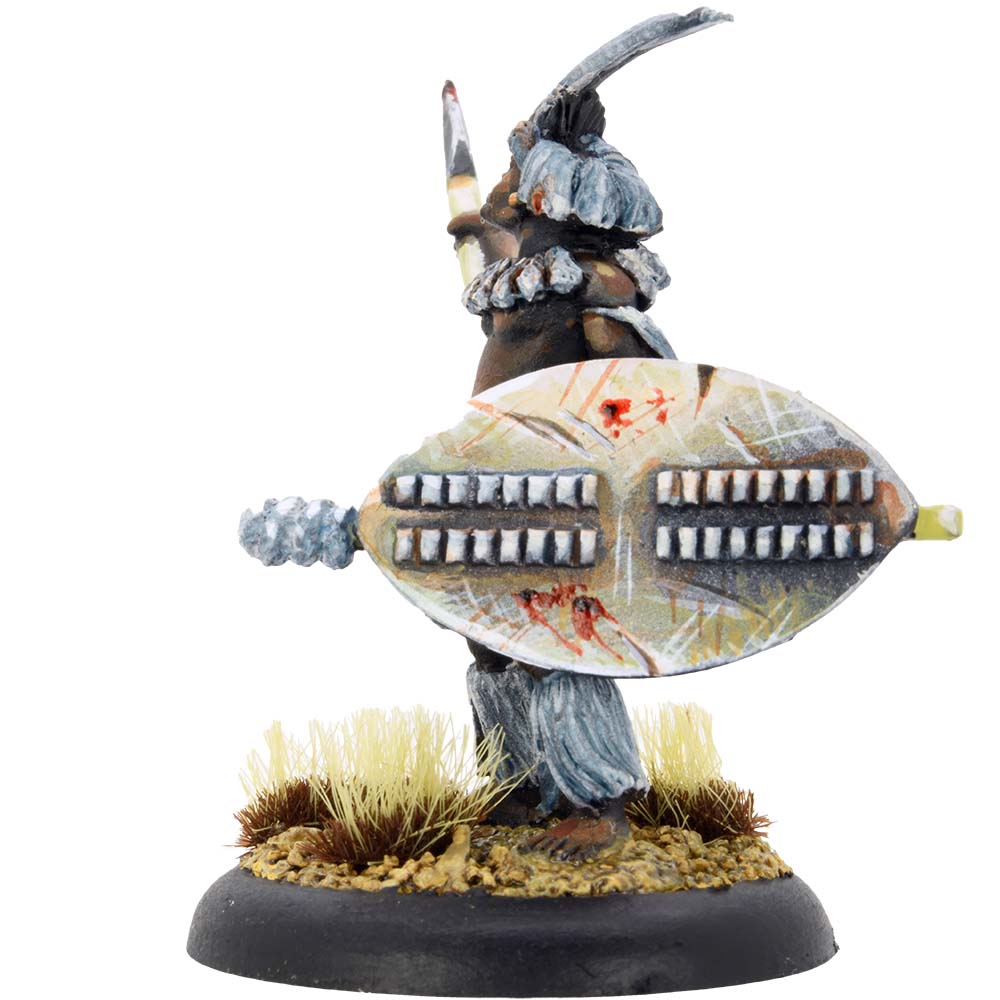 Shaka is now up for order. Find it in our store here!