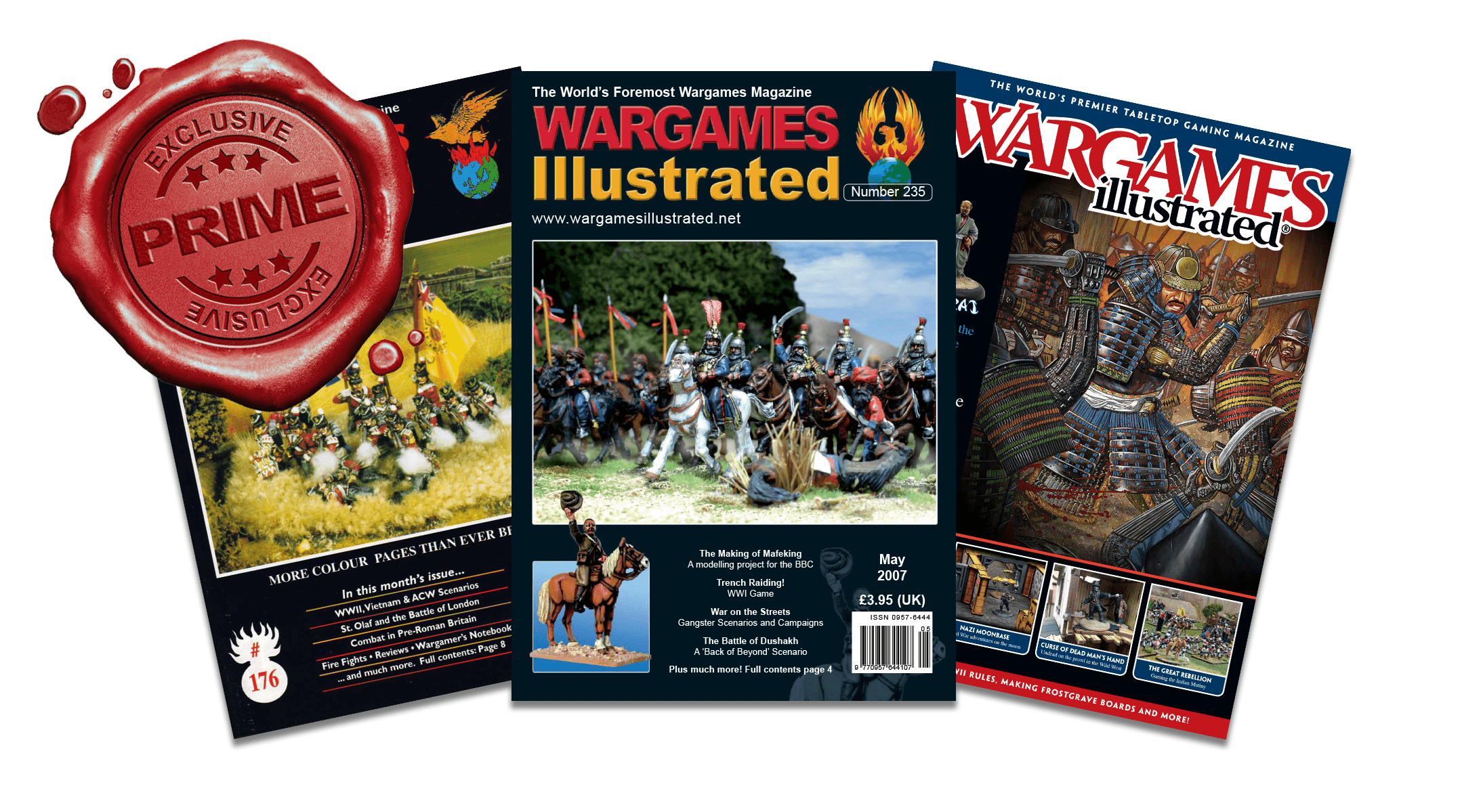 Sweeping in at the last minute we've got May's From the Vault; we look back at past issues of Wargames Illustrated and suggest interesting, odd, and visually appealing articles that are worth a second look.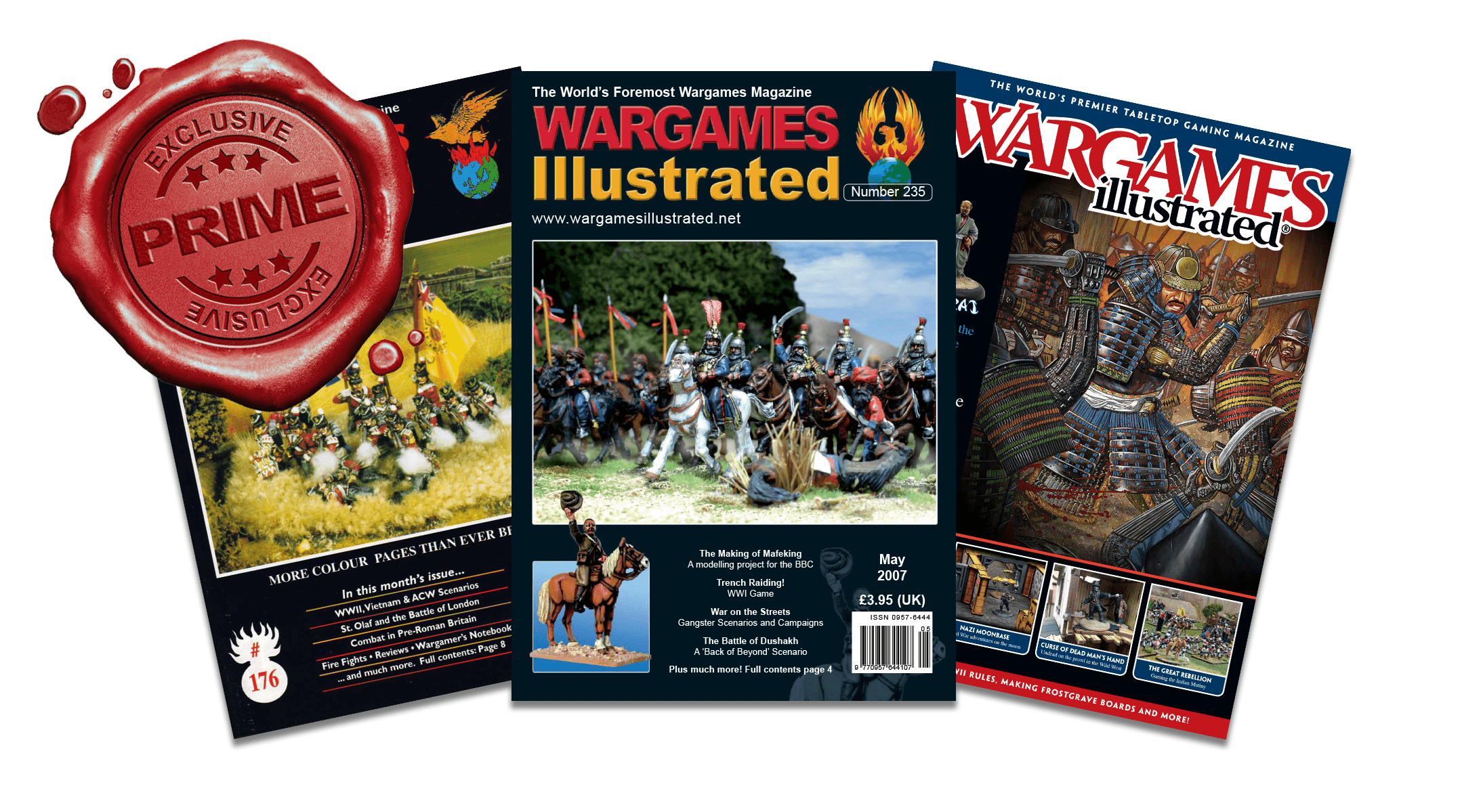 Wargames Illustrated 355 – May 2017
Five years ago our theme brought the colour, drama, and centuries of Samurai at war to the pages of the magazine. Jonas Svensson provided a great overview piece and it will be as useful now as it was then; Release Radar writer Dom Sore gave his insights on the Ronin; and there were Test of Honour scenarios, painting and basing tips, and more.
If you're looking for a wacky alternative to Samurai then how about Nazi platoons on the moon? Mike Strong discusses his 7TV pulpy moonbase gaming board and there are some excellent photos of his terrain being gamed over. There's more pulp action with the undead entering the Old West in The Curse of Dead Man's Hand; our article on that game has a comic book style battle report.
Back to the history, there's an article that ties in neatly with the 40th anniversary of the Falklands war; Chris Abbey presents a Combat Patrol scenario – skirmish at Murrell Bridge. Check out our latest issue, Wi414, if you want a guide on painting participants from the conflict.
Wargames Illustrated 235 – May 2007
Looking back fifteen years and blimey, look at page nine! GW was advertising in the pages of Wi; that's not something likely to happen again any time soon. But enough of that let's focus on the work of two chaps who escaped from the clutches of the Space Marine Empire – the Perrys tell us how they went about building an impressive Siege of Mafeking board in just six weeks for a BBC documentary. The article is a big one and gives the board and figures the attention they deserve in a great many stunning photos.
Not got enough Perry action from that article? We've got a look at Alan's Foundry Sikh War collection too.
Other goodies in this issue include a piece by Dave Andrews on World War One Trench Raiding with full custom rules, profiles, and floorplans; battling in Burma by Nicolas Stock; and an article from Chris Peers that looks at the British in the 'Back of Beyond'. If you want more 'Back of Beyond' action check out Wi414 where we've got a Designer's Notes from another Chris, Chris Swan, about his new Beyond the Empire rules.
Wargames Illustrated 176 – May 2002
If you think 20 years is a fair bit of time to travel in time for this issue then brace yourself for Terry Hooper's piece which goes waaaaaaaay back to the pre-Roman conflict in Britain. This old issue might not quite look as shiny and colourful as it does now but there's still some fascinating stuff in the articles, such as this look at extremely ancient options many thousands of years BC.
There's a neat article on making wheat fields from doormats and Kevin Calder's finished terrain pieces are put to use across a variety of periods in glorious colour photographs. Another part-colour piece is the odd advertising/article crossover found on page 54; a sci-fi scenario from i-Kore with some unusual miniatures and neat terrain. One of the pleasures of flicking through old issues is checking out the old adverts. This makes each issue a time capsule of what the big new releases were at the time. Don't forget to check the classified adverts where amongst other things there's a young lad called Nick Eyre trying to earn some pocket money by painting figures as part of his business North Star Figures. We can't help but wonder what he might be doing now…