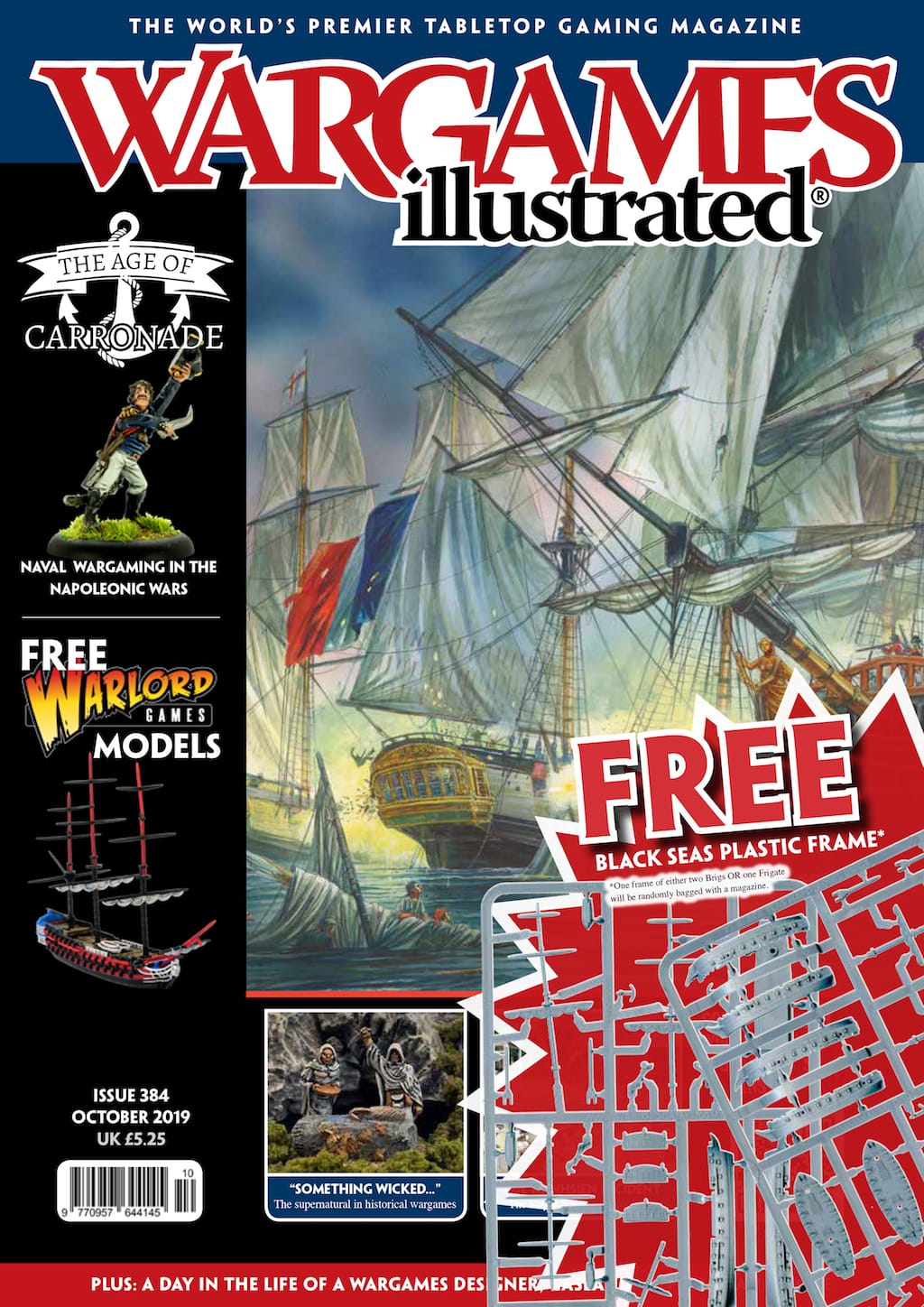 The October issue of Wargames Illustrated is heading for stores and letterboxes around the world.
Your freebie cover mount with WI384 is either two brigs or one frigate (randomly packed), for the new Black Seas naval game, courtesy of Warlord Games. 
WHERE AND WHEN CAN YOU BUY YOUR COPY?
This issue is selling out fast, the only way to guarantee receipt of this and future copies of WI is as part of a quarterly or yearly subscription OR by reserving a copy with your local hobby store, WH Smith or Barnes and Nobel.  
Our online store, the Warlord Games online store and North Star Military Figures have all sold out of this issue. Arcane Scenery and models did have some magazines left last time we checked (27 Sept).
Subscription copies were mailed out from the UK on 20th September.
HOBBY STORES
WI384 is available in store and online from loads of hobby stores around the world.
You can find your nearest hobby store stockist here.
https://www.wargamesillustrated.net/store-finder/
WH SMITH
7,000 copes of this magazine have been supplied to WH Smith High Street stores around the UK. These are now on-sale.
You can find your nearest WH Smith here
https://www.wargamesillustrated.net/uk-stockists/
Reserve future copies at WH Smith to makes sure you don't miss out.
BARNES AND NOBLE
Wargames Illustrated is available from hundreds of Barnes and Noble stores across the USA. However, it will take several weeks for new issues to arrive (sorry, it's impossible to say exactly when). Reserve you copy with your B&N today.
You can find your nearest B&N here.
https://www.wargamesillustrated.net/store-finder/
WI  PRIME MEMBERS
WIPrime Members have the option to order free plastic frames every month. You will be asked to pay the P&P and credit card fees. This offer is limited to number of extra frames we can blag from Warlord!